News posted on 1st February, 2013

This is a quick update giving you some of the latest video upload you can now watch.

First, don't forget the ShowReel, this is just a quick overview of my Live and on TV work.

Second, we just upload some of the TV shows that we were waiting for.

All latest uploads are below to your viewing pleasure!

You can see all my videos either on my website or on my YouTube Chanel.

Still many videos that are in the process to being uploaded.

Also soon we will lounch our NEW website!

S

Stay tuned and hope to see you soon, in person or in one of my shows.

Latest videos and TV appearances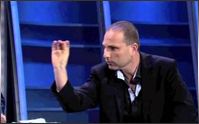 Guy Bavli – Sabado Gigante con Don Francisco y Javier Romero
Guy Bavli – Master of the Mind read minds with Don
Francisco and Javier Romero in SABADO GIGANTE.
Guy Bavli appeared multiple times in Sabado Gigante.
This time he play Mind Games with Javier while Don
Francisco interact with both. Maestro de la mente Guy Bavli demonstrar poder de la mente en Sabado Gigante.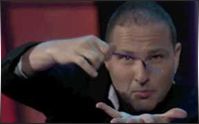 Guy Bavli – Don Francisco – Sabado Gigante. Metal Bending & Telekine
Guy Bavli – doble metales con Don Francisco en Sabado Gigante TV show. El poder de lamente con Maestro de la Mente Guy Bavli. Power of the Mind, Metal bending
demonstration bending spoons and forks.
A man stop his heart – Guy Bavli
Guy Bavli – Master of the Mind® – stop his heart on
"Masters of Illusions" TV show (My Network / FOX). Using a nurse and a EKG machine he manage to control his heart to a complete stop and then back.
News posted on February 1, 2013 6:57 am